IIT Mandi School of Computing and Electrical Engineering PhD Admission 2022-23 Spring Semester: Dates, Application, Results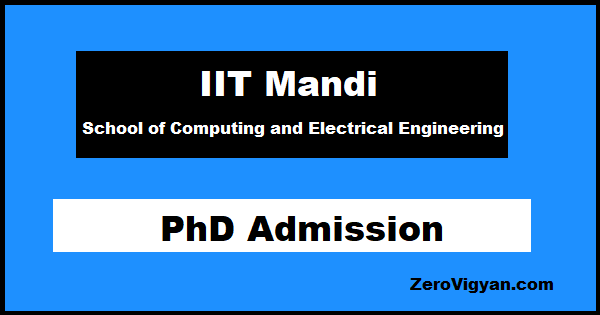 IIT Mandi SCEE PhD Admission Nov 2022 – IIT Mandi School of Computing and Electrical Engineering invites application for the PhD programmes in various disciplines. Get details like eligibility criteria, important dates and more on this page below.
Join Our Telegram Channel
Available PhD Program
IIT Mandi invites application for PhD program in the School of Computing and Electrical Engineering (SCEE) in the following areas.
Computer Science and Engineering

Intelligent Systems
Systems Engineering
Theoretical Computer Science

Electrical Engineering

Control Systems
Microelectronics and VLSI
Power Engineering
Communications and Signal Processing
General Information
For PhD applicants
To be eligible for an HTRA scholarship, the candidate must have qualified in national level exams like GATE, CSIR-NET or equivalent at some point in their career.
The same can be found at the following links –
MS /PhD Ordinance and Regulations (O&R) IIT Mandi
A valid score is, however, mandatory for admissions as listed under regulation R2.1.1 (b) and (c) of PhD O&R (see the above link).

For Masters applicants
A valid GATE score is required for admission to the MTech (Research) program, and for availing HTRA scholarship.
Important Dates
| | |
| --- | --- |
| Start of online application | 26 October 2022 |
| Last date for online application | 18 November 2022 |
| Announcement of shortlisted candidates | 20 November 2022 |
| Interview and Test (Tentatively) | 1-2 December 2022 |
Application Process
Candidates should apply through online only on IIT Mandi website.
Read notification before applying online.
Application Fee
| | |
| --- | --- |
| Category | Amount in ₹ |
| General/EWS/OBC/OBC (NCL)/Transgender/Foreign Nationals | 200 |
| Women/SC/ST/PD | 100 |
IIT Mandi School of Computing and Electrical Engineering PhD Admission Nov 2022 Results
Selected Candidates
| | |
| --- | --- |
| Program | List |
| PhD in School of Computing and Electrical Engineering | List |
| MS in School of Computing and Electrical Engineering | List |
Shortlisted Candidates
| | |
| --- | --- |
| Program | List |
| PhD in School of Computing and Electrical Engineering | List |
| MS in School of Computing and Electrical Engineering | List |
Important Links
---
Previous Admissions
IIT Mandi School of Computing and Electrical Engineering PhD Admission Even Sem Aug 2022
Important Dates
| | |
| --- | --- |
| Start of online application | 31 March 2022 |
| Last date for online application | 22 April 2022 |
| Announcement of shortlisted candidates | 25 May 2022 |
| Interview and Test (Tentatively) | 1-2 June 2022 |
IIT Mandi School of Computing and Electrical Engineering PhD Admission Aug 2022 Results
Selected Candidates
| | |
| --- | --- |
| Program | List |
| PhD in School of Computing and Electrical Engineering | List |
| MS in School of Computing and Electrical Engineering | List |
Shortlisted Candidates
| | |
| --- | --- |
| Program | List |
| PhD in School of Computing and Electrical Engineering | List |
| MS in School of Computing and Electrical Engineering | List |
IIT Mandi School of Computing and Electrical Engineering PhD Admission Even Sem Feb 2022
Important Dates
| | |
| --- | --- |
| Start of online application | 15 Oct 2021 |
| Last date for online application (Extended) | 07 Nov 2021 |
| Announcement of shortlisted candidates | 17 November 2021 |
| Interview (Tentatively) | 25-26 November 2021 |
IIT Mandi School of Computing and Electrical Engineering PhD Admission Even Sem Feb 2022 Results
Selected Candidates
| | |
| --- | --- |
| Program | List |
| PhD in School of Computing and Electrical Engineering | List |
| MS in School of Computing and Electrical Engineering | List |
Shortlisted Candidates